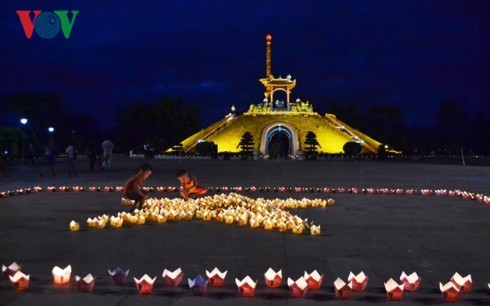 Quang Tri ancient citadel is lightened by candles during a requiem held for war martyrs.
Quang Tri province has 500 historical and cultural sites, and many of them are national relics such as the Vinh Moc tunnels, Hien Luong bridge on the Ben Hai river, the Quang Tri ancient citadel, Truong Son martyrs' cemetery, and Road 9 national martyrs' cemetery.
The Vinh Moc tunnels draw hundreds of thousands of visitors each year. Nguyen Thi Huong is one of them. She said: "I come here to admire the underground architecture and learn about the difficulties that our predecessors endured to achieve glorious victory over foreign invaders. There are many famous historical sites in Quang Tri province, which, I think, are popular destinations for paying respects to martyrs and discovering Vietnam's culture and history."
Foreigners discover Vinh Moc tunnels.
Hien Luong bridge on Ben Hai river is a special national historical relic in Vinh Linh district. The bridge symbolized the division of the North and South of Vietnam for more than 2 decades and later became a symbol of the victory that led to national reunification on April 30th, 1975. Le Thi To Hoai, head of the management board of the Hien Luong bridge relic site, said that 13 years since the nostalgia tour was first introduced, this relic site has attracted more and more visitors, two thirds of whom are foreigners. She told VOV: "Foreigners, war veterans, and students visit Hien Luong bridge to get to know more about Vietnam's history and revolutionary traditions. The site is packed with tourists during holidays."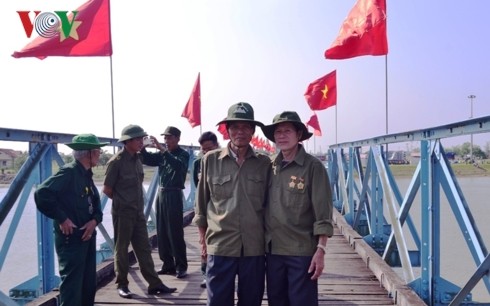 War veterans visit Hien Luong bridge on Ben Hai river.
In 2010, Quang Tri province opened a center and established a fund for the development of nostalgia tourism, which has become a local trademark. Nguyen Dinh Quang, Vice Director of the Center for Quang Tri Tourism Promotion, said the province will invest in human resource training to popularize nostalgia tourism. He elaborated: "We have recently launched tour management training courses. We aim to improve service quality and upgrade our technology for tourism development."
According to Nguyen Van Chien, Vice Director of the Quang Tri provincial Department of Culture, Sports, and Tourism, tours to former battlefields and to pay tribute to martyrs have made local tourism distinctive from that of other localities. Local authorities will pay due attention to preserving national relic sites, promoting tourism, and mobilizing more social resources in management and development. He said: "Battlefield tours will remain the backbone of our local tourism development plan. We hope such tours will remind people of the brutal war and instill the desire for peace."
In 2018, Quang Tri province welcomed 1.8 million visitors.
Nguồn: vovworld.vn